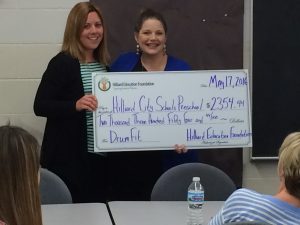 Hilliard City School District Preschool
Grant Award: $2,354.44
Grant Writer(s): Amy Wagner, Occupational Therapist
DrumFit is a cardio drumming program that combines the mental health benefits of drumming with the overall health benefits of physical fitness, a full mind and body workout! Our students will not only exercise, but the DrumFit program allows leaders to incorporate goals from IEP's and better serve the special needs of our students. All while having fun!