Great teachers have great ideas. Together with you, the Hilliard Education Foundation wants to bring those ideas to life and help teachers and students do more! Each year, the Foundation will choose the best ideas and award grants to make them happen.
TEACHERS and STAFF
Keep reading to find out more information about applying for a grant.
PARENTS and COMMUNITY SUPPORTERS
Give now to support creativity and passion in our teachers and students!
---
We WILL fund:

New, innovative or unique learning opportunities for students

Projects not supported through traditional funding sources

Requests of $5,000 or less (this is an increase from previous years)

Opportunities with clear linkages to district-approved curriculum
We WON'T fund:

Author Visits

Transportation costs

Staff salaries, stipends or substitute costs

Consumable supplies (i.e. t-shirts, food)

Purchase of equipment to simply expand a current program with no new element

Continuation or repeat of existing program (artist-in-residence excluded)

Individual Professional Development
Special Grant Opportunities
The following grants are provided by donors who have designated additional specific criteria. You must meet all criteria above and the following to be eligible for these grants.
The Jean Schmidt Grant. This grant will support Middle School projects that promote or expand the arts.
The Jessica Grové Fund for the Performing Arts. This grant will support High School performing arts programs.
APPLICATION PROCESS/TIMELINE
Summary Page (aka Letter of Intent) – Last Friday in January  

Review our

Grant Guidelines 

to make sure your idea is eligible.

Submit a Letter of Intent (LOI) – a one page summary of your idea – anytime throughout the year but no later than the last Friday in January (January 25, 2019). Your LOI will be reviewed and feedback given the first week of the following month.

Click here to download the Letter of Intent form.

Grant Application -4:30 PM, February 28, 2019.

The LOI isn't a prerequisite to applying for a grant, but is intended to provide feedback to applicants while preparing the grant application.

All grant applications must be received no later than 4:30 PM, February 28th.

Click here to download application.

Notification of Award – April 12th

You'll be notified 

within 2 weeks

after Spring Break (April 12th this year) that you will receive funding for the following school year.

Next Steps after receiving a Grant

Applicants who are awarded a grant should submit a completed

 Payment Request Form 

in order to receive funding.

Applicants should not pay for grants and then seek reimbursement from the Hilliard Education Foundation. Doing so lead to forfeiture of the awarded grant.

Funds must be requested within one year of grant award.

Progress Presentation – October 1

You'll be asked to participate in our annual fall fundraiser and show off your project's progress. You will be notified of the fundraiser date and asked to turn in your plans no later than October 1.
Click here for the Tips for Grantwriting Presentation given at Hilliard U.
---
Congratulations 2016 Grant Winners
Performer's Institute
McVey Innovative Learning Center
Grant Award: $2,000.00 supported through the Grove Fund
Grant Writer(s): Phil Nagy, Music Teacher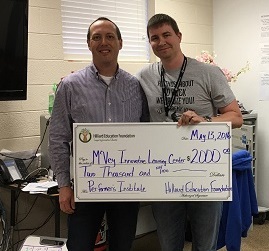 The Performer's Institute will take musicians from all three high schools and put them into contemporary ensemble situations. The students will receive top-level training on their instruments, music composition and song-writing, live and recording technology, and live public performance practice. Students will utilize professional grade technology and our program will stand alone as one of the most new, innovative and unique programs in the field of music education.
Sphero Robots
Hilliard Tharp Sixth Grade School
Grant Award: $2,400.00
Grant Writer(s): Scott Snyder, Science and STEM Teacher (and the rest of the Tharp STEM teachers)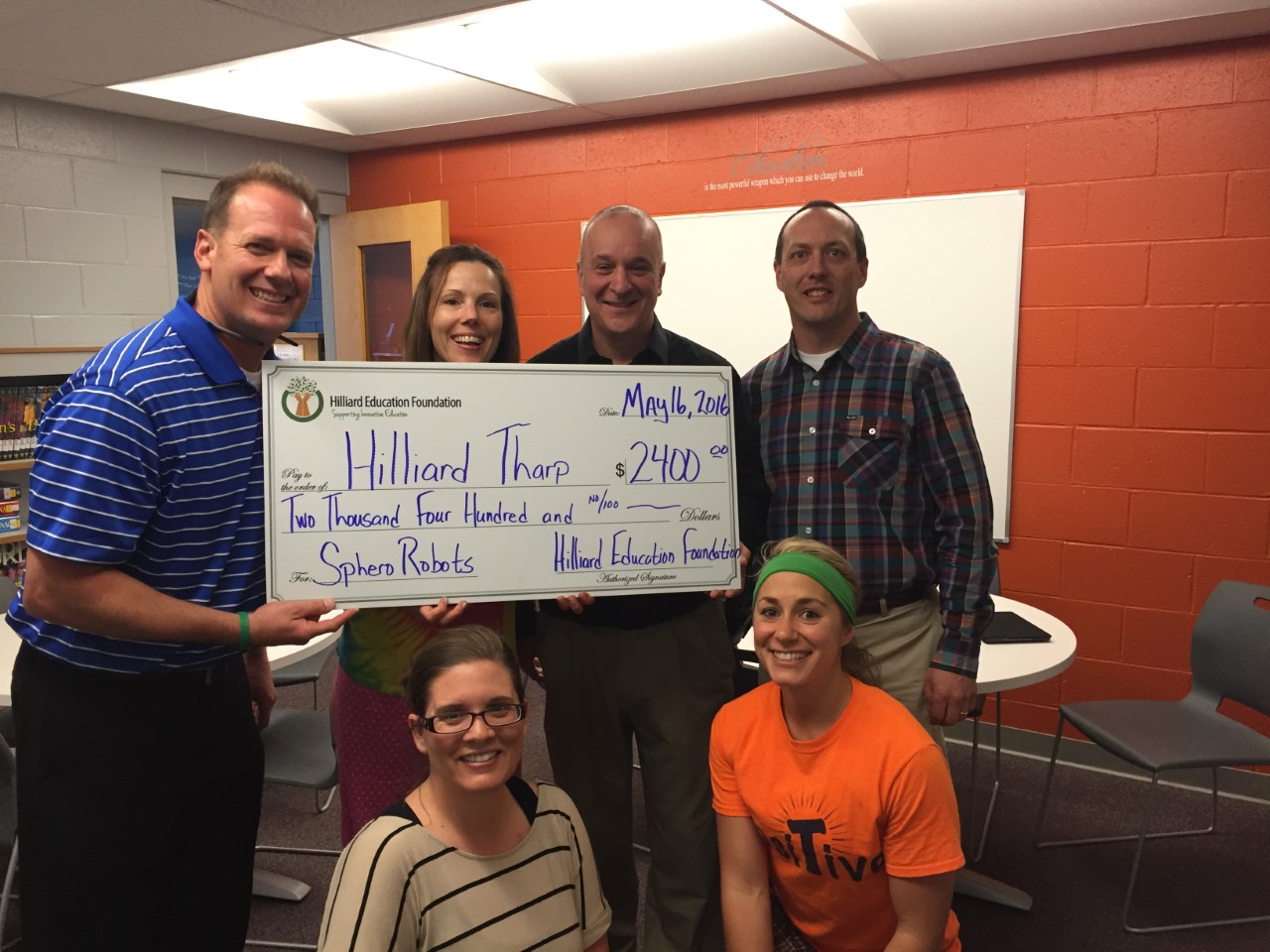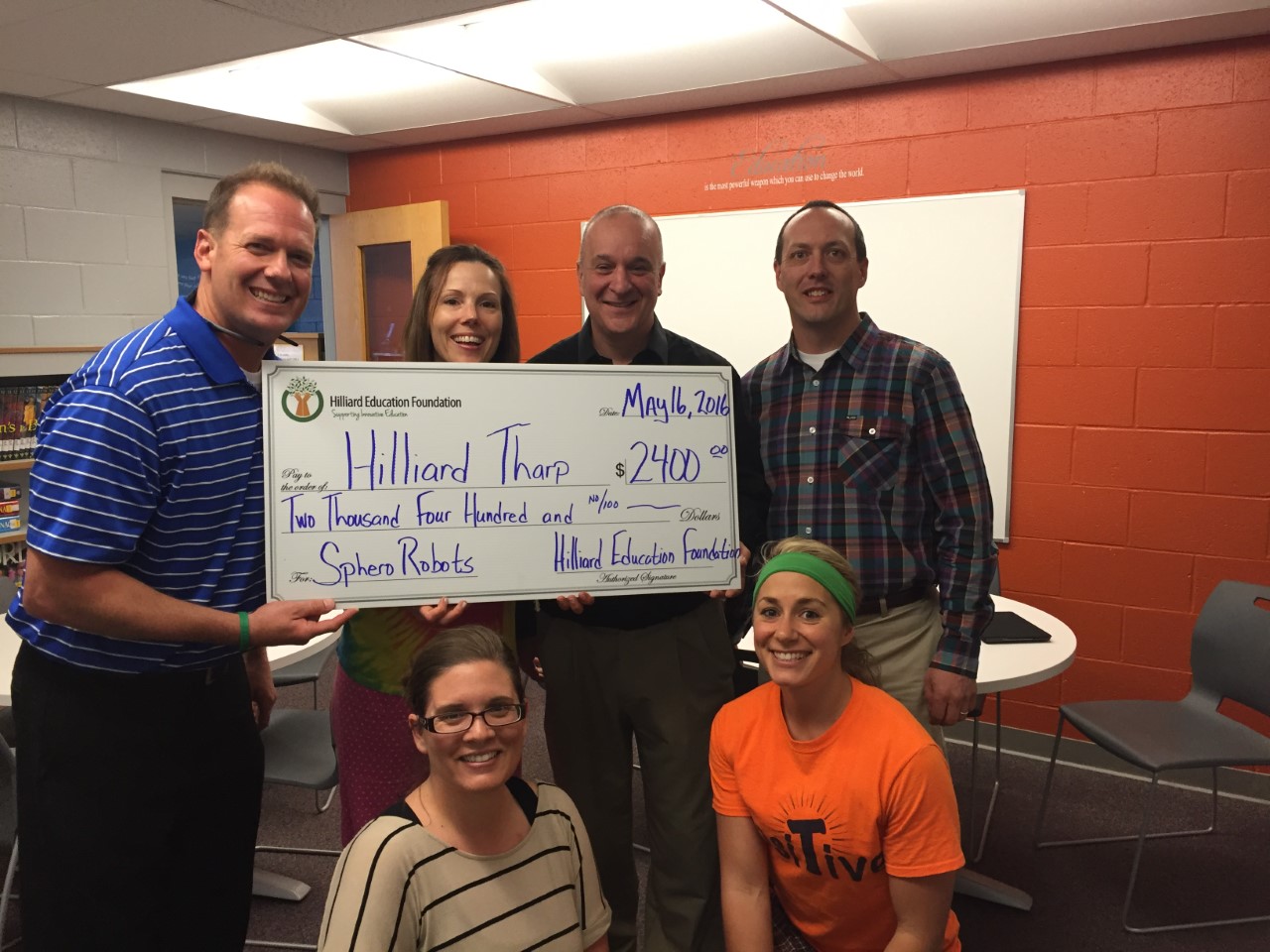 We want to further engage students in exploring and creating in science and technology to cultivate a future generation of inventors and critical thinkers. We'll do this through the use of Sphero robots – an interactive robotics system that integrates with existing curriculum. These robots bring science to life by better engaging students and responding to unique language created from computer code and responding to directions from students.
DrumFit
Hilliard City School District Preschool
Grant Award: $2,354.44
Grant Writer(s): Amy Wagner, Occupational Therapist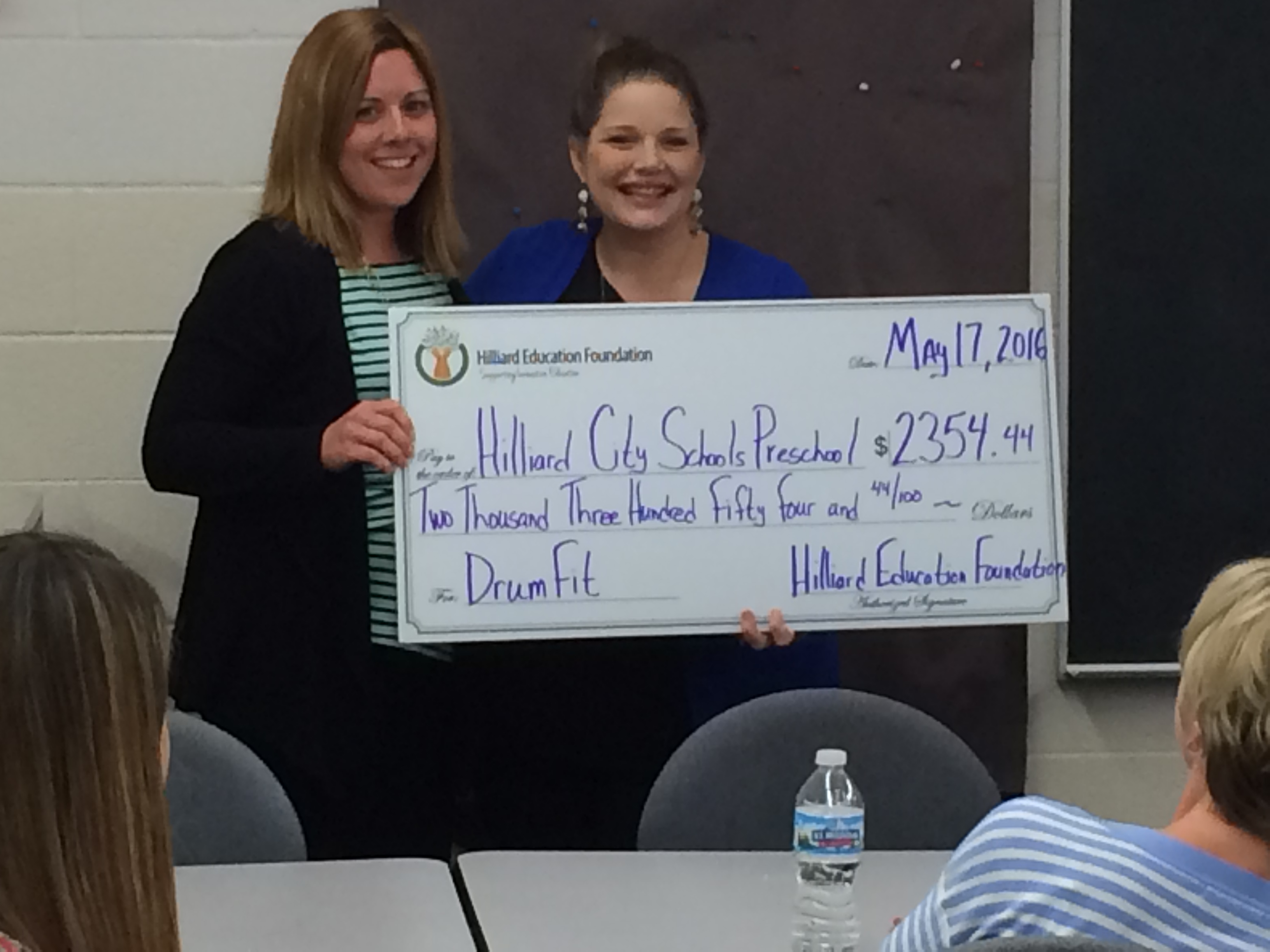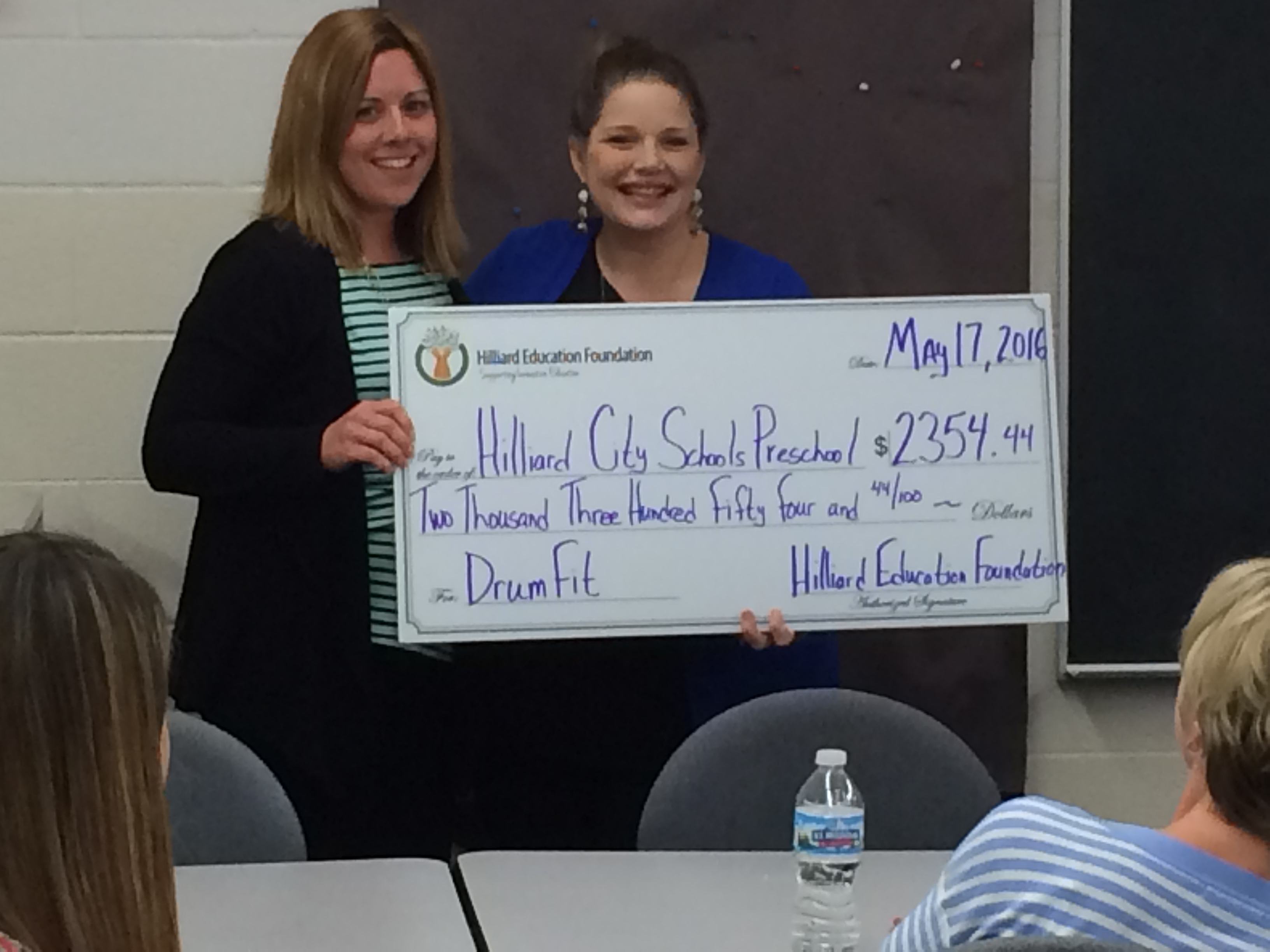 DrumFit is a cardio drumming program that combines the mental health benefits of drumming with the overall health benefits of physical fitness, a full mind and body workout! Our students will not only exercise, but the DrumFit program allows leaders to incorporate goals from IEP's and better serve the special needs of our students. All while having fun!
Science 9 Wind Turbine
Darby High School
Grant Amount: $2,414.58
Grant Writers: Amy Ebenezer, Bridget Ebenhack, Connie Dela Cruz, Brian Dickmann (Science Teachers)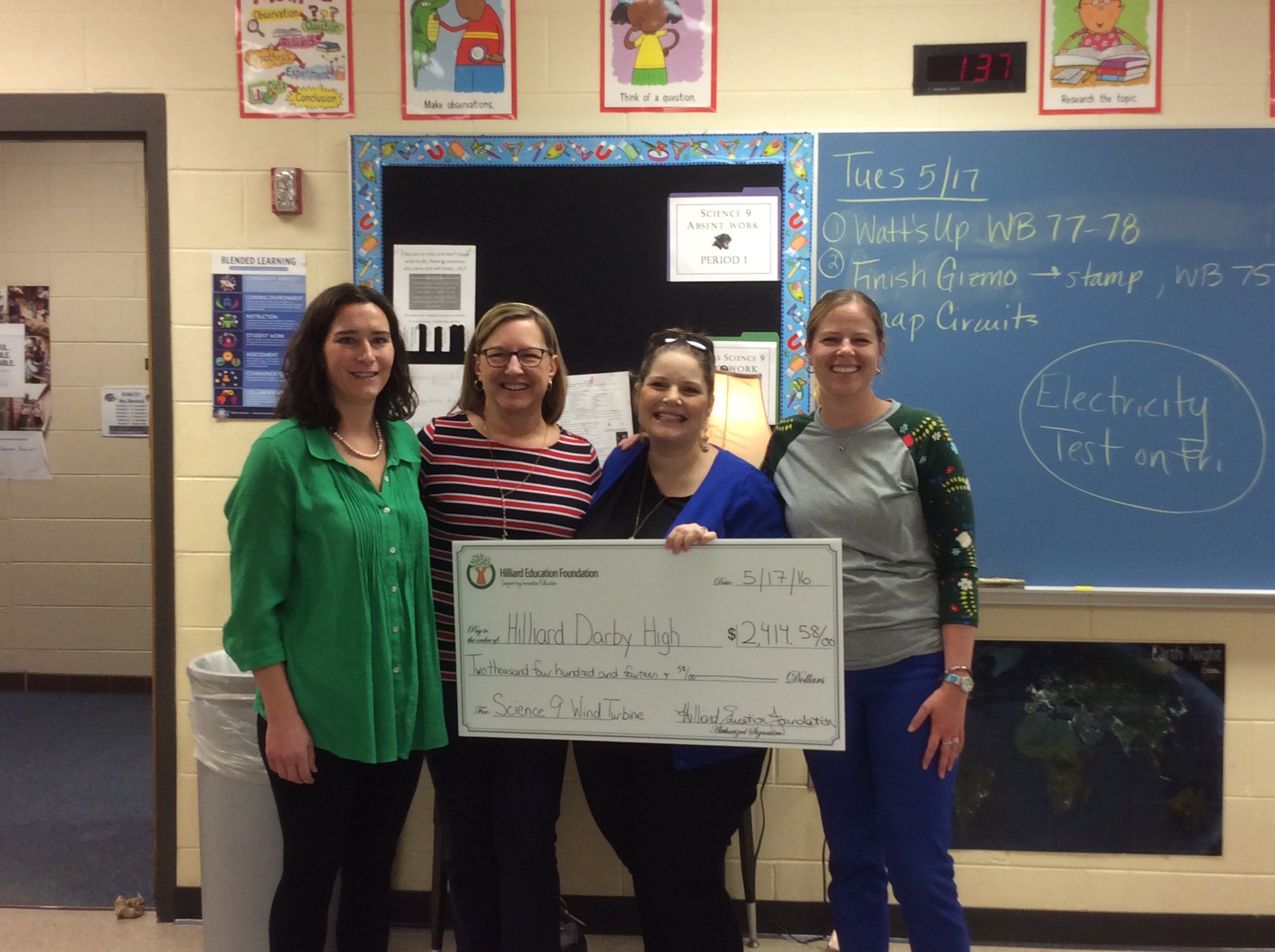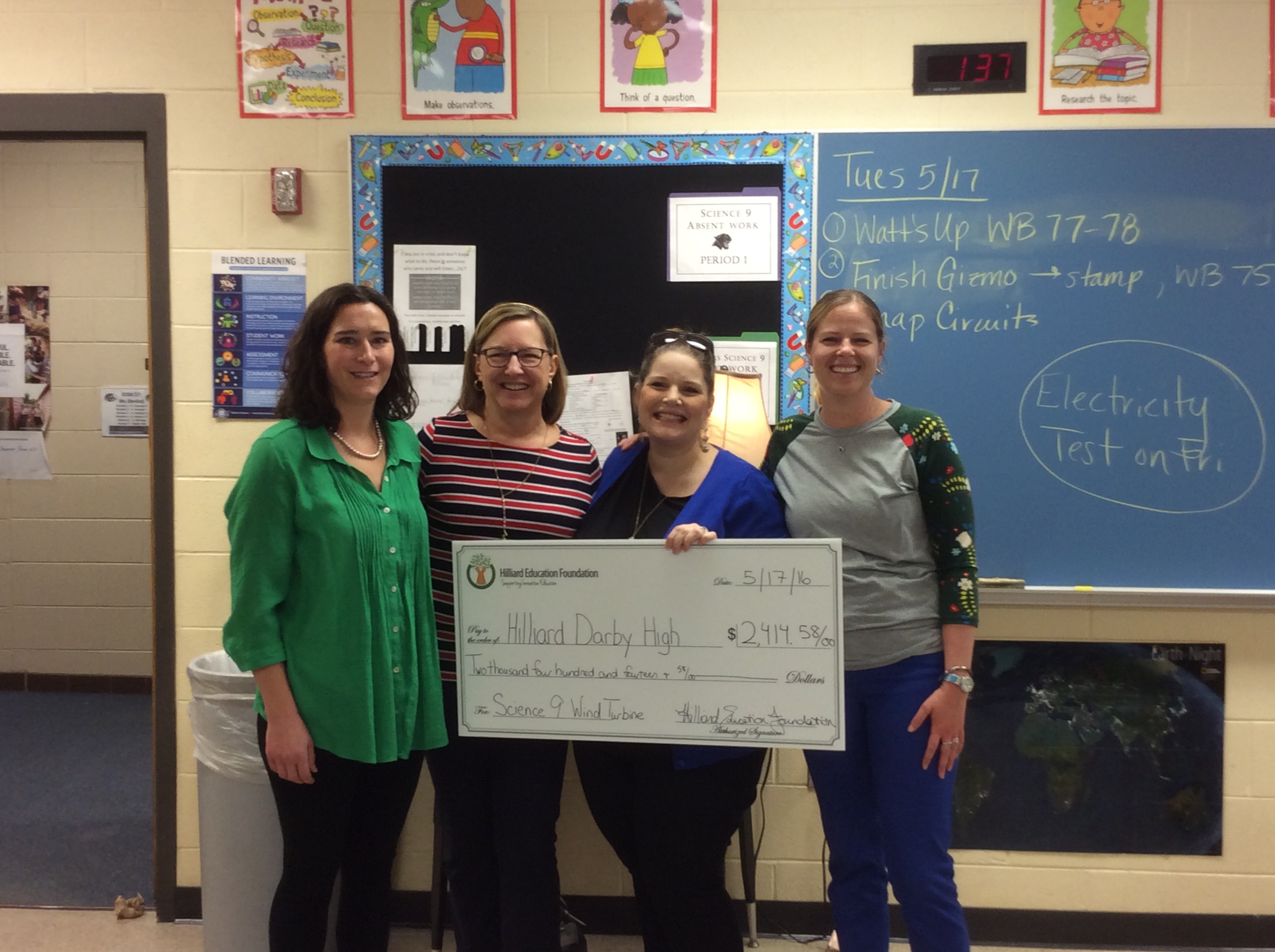 Students will engage in self-discovery and inquiry-based learning through STEM-related experiences – giving them a chance to apply both science and math concepts and skills in a way that model real world engineering. The wind turbine lab equipment provides accurate and reliable data to students so they can observe acceleration, electricity, force, energy, inertia, power, mass, speed, convection currents, etc – all current curriculum brought to life!
Launching Learning
Washington Elementary School
Grant Award: $1,001.00
Grant Writer(s): Gail Tanner, Gifted Intervention Specialist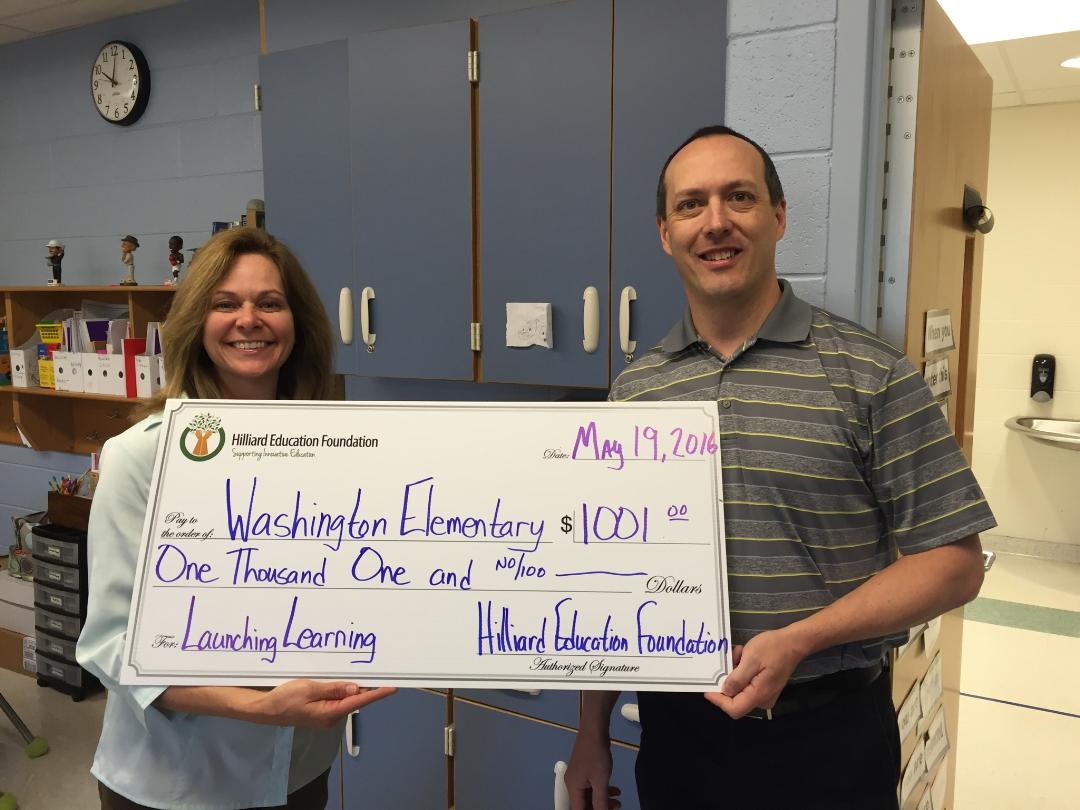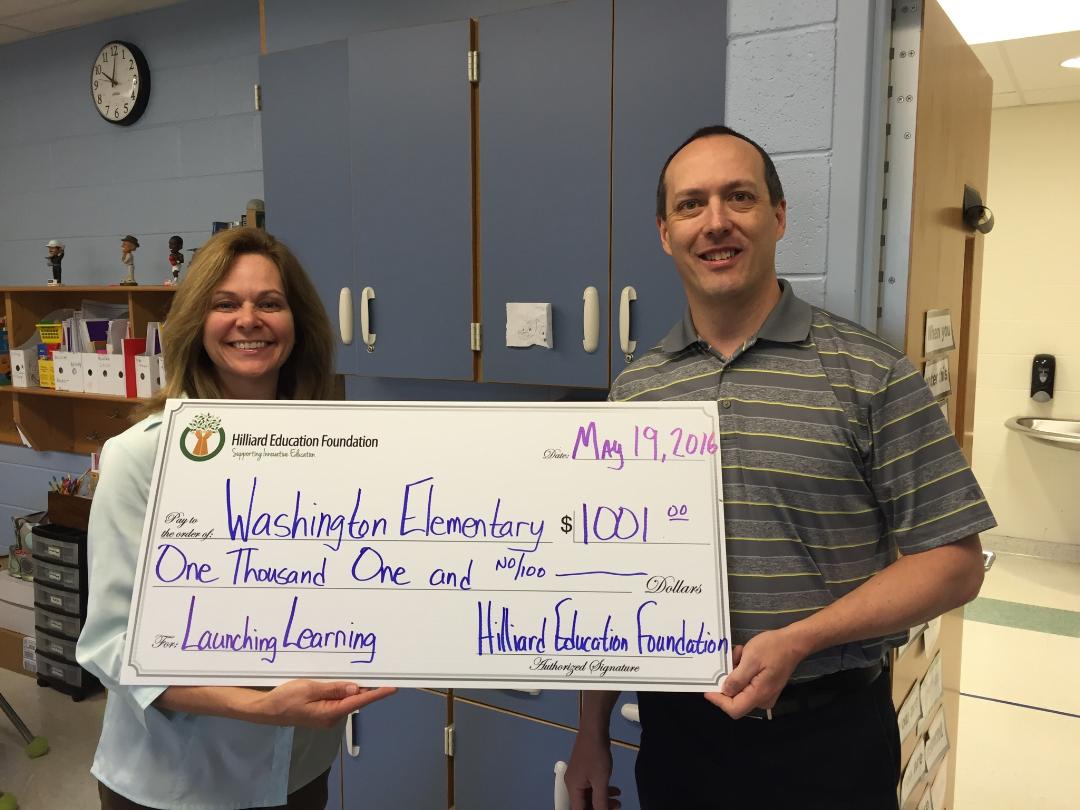 Our students will plan and executive a high-altitude balloon launch which will carry a payload of science experiments to the edge of space. The whole school will be part of different aspects of the project and witness to the launch. From engineering and design to math, physics and experimental research skills, our students will be exposed to a myriad of new skills.

2015 Winners
Monarch Butterfly Garden – A Special Project supported by Credit Union of Ohio
Bradley High School
To enhance the current life skill curriculum taught in the SLSP classroom, the Bradley High School courtyard was transformed to host a Monarch Butterly Garden. The garden serves as a learning environment for the SLSP class and Biology class. It provides a safe habit for the Monarchs to reproduce. And, it teaches valuable hands-on life skills to our students. Click here for photos.

Artist-in-Residence: Heritage Mosaic Mural
Heritage Middle School
With the help of artist Lynda Elias, the Heritage Art Department will create a permanent art installation in the courtyard of Heritage Middle School comprised of student created tiles celebrating the four "C's" of education: communication, collaboration, creativity and critical thinking. (Art teacher Beth Boza pictured above.)
Literacy Garden Walk
Britton Elementary
Literature stands will be added to the paved path connecting the playground and garden so that students can read along their way. Stands will feature student works, plant diagrams, garden works, etc.
Author-in-Residence: Candace Fleming
Weaver Middle School, Norwich Elementary, and Hoffman Trails Elementary
Students at all three schools will have opportunities to interact with Candace Fleming and each other. Students will delight in the author's delight of words, historical research and belief that history tells a good story.
Project MakerSpace
Hilliard Darby High
Creation of a Blended Learning Lab designed to provide flexible learning spaces, resources, tools and instructions to students as they innovate, collaborate and create authentic educational experiences.
Building Creative and Critical Thinkers
Hilliard Crossing Elementary
3rd graders will participate in inquiry-based, cooperative activities and be asked to think critically as their utilize high-interest tools in a blended learning environment that includes ITSCO StoryStarters Kits.
Creation and Integration of Authentic Quality Science Resources
Memorial Middle School
7th grade science teachers are writing curriculum for their own classrooms using iBooks saving the District thousands of dollars in textbook costs.