Congratulations 2020 Grant Winners
In 2020 the Hilliard Education Foundation awarded eight grants with a total of $28,000 awarded and impacting thousands of students in Hilliard schools.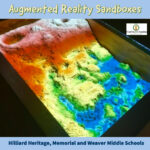 Augmented Reality Sandbox
Heritage, Memorial and Weaver Middle Schools  
Each middle school will build an Augmented Reality (AR) sandboxes, with the HEF grant will funding the purchase of the electronic components used in these sandboxes.
A Loving Inclusive Nurturing Community
Darby High School
Developed under the A-LINC (A Loving
Inclusive Nurturing Community) program, the Media Center will use funds to create a Social Emotional Learning (SEL) safe-space for students.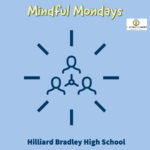 Mindful Mondays
Bradley High School 
Teachers will be getting a certification in Mindful School so they can implement lunch and learn groups with the kids. The sessions will include training and instruction, journals and yoga mats.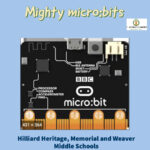 Mighty micro:bits
Weaver Middle School 
Mini computers will be purchased for coding curriculum students with the possibility of partnering with businesses.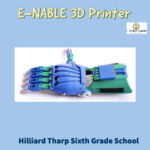 E-NABLE 3Dprinter
Tharp Sixth Grade
Students will be using 3D printing to create "Digital Humanitarian" ideas through the E-NABLE program, while furthering their STEAM education.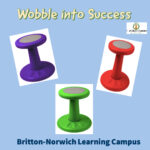 Wobble into Success
Britton-Norwich Learning Campus
This grant allowed the purchase of an "Active Chair" for every classroom across two schools, to support learning for fidgety kids and students with sensory issues.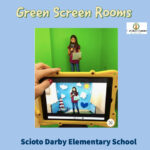 SDE Green Screen Rooms
Scioto Darby
The new green screens will help support non-traditional learning, especially for visual learners.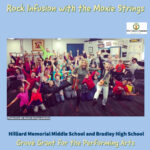 Rock Infusion with the Moxie Strings
Memorial Middle and Bradley High Schools
This grant will bring in the Moxie Strings musical duo in for a day to work with students. The students will get to compose music to use for an evening community concert.
---
2019 Grant Winners
In 2019 the Hilliard Education Foundation awarded eight grants with a total of $24,000 awarded and impacting over 4,000 students.
Family Fun Night of STEAM
JW Reason 
Night of teachers, students, and parents/care-givers to learn through multiple Science, Technology, Engineering, the Arts, and Mathematics (STEAM) stations;  High impact with students to engage at stations with activities and take-home handouts and resources for continued learning.  Multiple languages supported for a school that meets the needs for a highly diverse and lower-income families.
---
A Night Under the Stars
JW Reason
This grant allowed 78 students to spend a night at COSI.  It was a focused program to study stars/asteroids/constellations.
---
Responsive Approach to Social & Emotional Needs
Alton Darby Elementary
Sent six teachers to Responsive Classroom training to improve the outcomes of SEL (Social Emotional Learning) curriculum.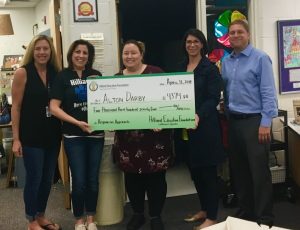 ---
Ruling Our Experience (ROX)
Hilliard Station
ROX program for four groups of ten, 6th-grade students;  Also includes the purchase of self-defense equipment.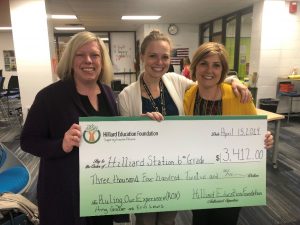 ---
Portable Programmable LED Lighting
Innovative Learning Center
This grant allowed the purchase of three portable LED lighting kits and accessories to expose our students to the tools and techniques they need to explore innovative technology that has real-world applications in the professions of video/TV/film and live show production design.
---
Portable Speaker Package
Innovative Learning Center
A portable speaker system for the Academy Vibe program. Many students will benefit from this technology as it is something simple and portable they can take by themselves to their performances around the district and community. Students have performed in elementary, middle, and high schools, local businesses, community groups, fundraisers, and much more. Similarly, when guest speakers/presenters/touring groups stop by the Innovation Campus, this portable sound system will provide an easy and helpful tool to reinforce those people's tech needs.
---
Because you Matter
Heritage Middle School
School-wide initiative to encourage a positive climate and sense of belonging;  Supports SEL (Social Emotional Learning) curriculum and arts program.  Every student creates art (poetry, story, drawing, etc.) and combined with poster pictures.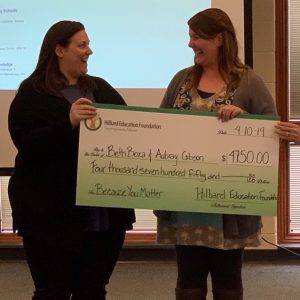 ---
2018 Winners
Grow n Give Garden
Crossing Elementary
Enables the creation and maintenance of a garden by students with behavioral disorders, such as ODD, Autism, and ADHD that may affect their performance in the classroom. These students will benefit in being part of this project to help increase and improve their educational experience and acceptance within the school community.
---
Young STEM Learners Program (YSL)
Davidson High School
Engages former HCSD graduates to bring STEM curriculum training to grade school students that are from lower income families;  Specifically funded seven robots to use in the program.
---
Music for a New Beginning
Memorial Middle School
Commissions 3 new pieces of music for the new Memorial Middle School building;  Involves band, orchestra and choir students with composers to learn how it was created and understand the music and how best to perform it.
---
Learning in the Wild: A Night at the Zoo
JW Reason Elementary
Allowed the 5th graders at JW Reason the experience of spending a night at the Columbus Zoo and Aquarium to explore nocturnal animals, including owls, habitats and adaptations that help these animals survive in the world around them. This program also allows time to apply learned concepts about constellations by observing and finding constellations throughout the night with experts at the zoo.
---
World Music Drumming Lab
Norwich Elementary
Funding used to repair drumming equipment, however, brings a new innovative dimension by adding a New World Drumming Curriculum by Will Schmid with music lessons from multiple world cultures.
---
Alan Gratz Author Visit
Tharp
This author won numerous awards. The books are about refugees from various times and places in our world's history. Provides diverse perspective and exposure to the students.
---
Musical Looping with David Wong
Heritage Middle School
Leveraged a visit by musical artist David Wong and 36 clinics to explore looping technology to create and perform elaborate arrangements of music of all genres using alternate learning styles.