..Great teachers have great ideas. Together with you, the Hilliard Education Foundation wants to bring those ideas to life and help teachers and students do more! Each year, the Foundation will choose the best ideas and award grants to make them happen.
TEACHERS and STAFF
Keep reading to find out more information about applying for a grant.
PARENTS and COMMUNITY SUPPORTERS
Give now to support creativity and passion in our teachers and students!
---
We WILL fund:
New, innovative or unique learning opportunities for students

Projects not supported through traditional funding sources

Requests of $10,000 or less (this is an increase from previous years)

Opportunities with clear linkages to district-approved curriculum
We WON'T fund:
Author Visits

Transportation costs

Staff salaries, stipends or substitute costs

Consumable supplies (i.e. t-shirts, food)

Purchase of equipment to simply expand a current program with no new element

Continuation or repeat of an existing program (artist-in-residence excluded)

Individual Professional Development
Special Grant Opportunities
The following grants are provided by donors who have designated additional specific criteria. You must meet all the criteria above and the following to be eligible for these grants.
The Jessica Grové Fund for the Performing Arts. This grant will support High School performing arts programs.
APPLICATION PROCESS/TIMELINE
Summary Page (aka Letter of Intent) – Last Friday in January  

Review our

2023 Grant Guidelines

 

to make sure your idea is eligible.

Submit a Letter of Intent (LOI) – a one page summary of your idea – anytime throughout the year but no later than the last Friday in January.
Your LOI will be reviewed and feedback given the first week of the following month. Letter of Intent Form

Grant Application – February 28, 2023

The LOI isn't a prerequisite to applying for a grant but is intended to provide feedback to applicants while preparing the grant application.

All grant applications must be received no later than February 28th.

HEF Grant Application.

Notification of Award – April 30th

Applicants will be be notified of funding decisions by April 30th.

Next Steps after receiving a Grant

Applicants who are awarded a grant should submit a completed

 Payment Request Form 

in order to receive funding.

Applicants should not pay for grants and then seek reimbursement from the Hilliard Education Foundation. Doing so will lead to forfeiture of the awarded grant.

Funds must be requested within one year of a grant award.
Congratulations 2022 Grant Winners
In 2022 the Hilliard Education Foundation awarded six grants with a total of almost $23,000 awarded and impacting thousands of students in Hilliard schools.
Adapted PE Bikes
Alton Darby Creek Campus
This grant provides adaptive bikes that will be used for the life skills students with disabilities, and students throughout the district will have the opportunity to use the equipment. The bikes feature cushioned backrests, seatbelts and weighted pedals and will allow the students using them to bike ride independently with their peers. This project will promote socialization, coordination, endurance, physical fitness, and lifetime recreation skills to students with disabilities.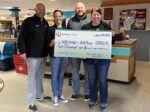 Community Canvas
Darby High School
The goal of this grant is to think through the lens of diversity, equity and inclusion while using visual arts as the forum for understanding. Students within each academic area will complete smaller pieces of art which reflect the work and impact of a Black Indigenous Person of Color. A group will work with a local artist to compile the student creations into a larger piece which will be installed at the school.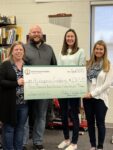 Hydroponics Gardening
Hoffman Trails Elementary
Students will fuel their passion for growing plants through innovative indoor gardening. Hydroponics is an alternative farming technique that will show an innovative way for students to imagine growing food. Students will get hands-on experience with the growing process and learn about environmental science, sustainability; and future careers in agriculture,  business management, engineering and technology.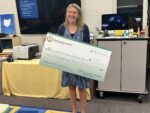 Landforms, Erosion, Waterways, Oh My!
Alton Darby Creek Campus
This grant will help purchase an augmented reality table for the Innovative Discovery Center. Students will have the opportunity to explore waterways, landforms, erosion, nonliving resources, and how they interact in the world around them.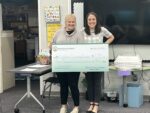 Outdoor Learning Paradise
Alton Darby Creek Campus
This project will allow students the ability to extend learning beyond the four walls of the traditional classroom. Alton Darby Creek Campus has some of the few students who are leading the district with the campus model and this grant will provide a space where students can meet in a neutral setting, across buildings and grade levels.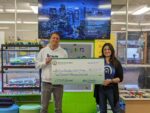 STEAM is Everywhere
Brown Elementary School
A student-influenced mural design digitally created by a local artist. This project will turn a dark brick wall into something inspirational, interactive and vibrant. Students will learn the artistic process, what makes up the five aspects of STEAM, submit visual ideas to a working artist, learn about STEAM-related professions, and grow in their pride of place and through their contribution to the piece