In 2019 the Hilliard Education Foundation awarded eight grants with a total of $24,000 awarded and impacting over 4,000 students.
Family Fun Night of STEAM
JW Reason 
Night of teachers, students, and parents/care-givers to learn through multiple Science, Technology, Engineering, the Arts, and Mathematics (STEAM) stations;  High impact with students to engage at stations with activities and take-home handouts and resources for continued learning.  Multiple languages supported for a school that meets the needs for a highly diverse and lower-income families.
---
A Night Under the Stars
JW Reason
This grant allowed 78 students to spend a night at COSI.  It was a focused program to study stars/asteroids/constellations.
---
Responsive Approach to Social & Emotional Needs
Alton Darby Elementary
Sent six teachers to Responsive Classroom training to improve the outcomes of SEL (Social Emotional Learning) curriculum.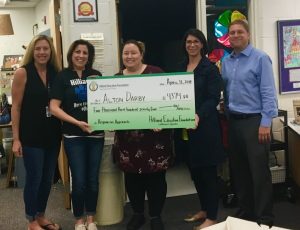 ---
Ruling Our Experience (ROX)
Hilliard Station
ROX program for four groups of ten, 6th-grade students;  Also includes the purchase of self-defense equipment.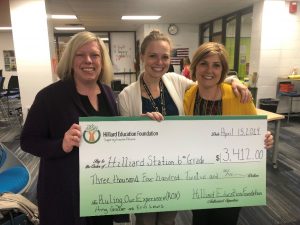 ---
Portable Programmable LED Lighting
Innovative Learning Center
This grant allowed the purchase of three portable LED lighting kits and accessories to expose our students to the tools and techniques they need to explore innovative technology that has real-world applications in the professions of video/TV/film and live show production design.
---
Portable Speaker Package
Innovative Learning Center
A portable speaker system for the Academy Vibe program. Many students will benefit from this technology as it is something simple and portable they can take by themselves to their performances around the district and community. Students have performed in elementary, middle, and high schools, local businesses, community groups, fundraisers, and much more. Similarly, when guest speakers/presenters/touring groups stop by the Innovation Campus, this portable sound system will provide an easy and helpful tool to reinforce those people's tech needs.
---
Because you Matter
Heritage Middle School
School-wide initiative to encourage a positive climate and sense of belonging;  Supports SEL (Social Emotional Learning) curriculum and arts program.  Every student creates art (poetry, story, drawing, etc.) and combined with poster pictures.