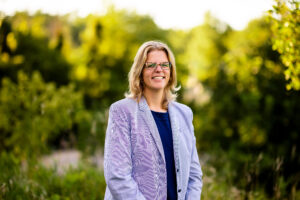 Abby Wilson joined the Hilliard Education Foundation Board in October, 2022. She looks forward to working with the HEF Board to provide educational opportunities for our amazing teachers and students.
Abby has a Master of Public Administration from Ohio University and a Bachelor of Arts in History from The Ohio State University. She is currently the Administrative Coordinator for the Ohio Court of Claims and prior to that, she held various roles with the Supreme Court of Ohio.
Abby currently volunteers with the Alton Darby Creek Campus PTO and Hilliard City Schools. She has been a past volunteer for Supreme Court of Ohio Employee Committees, Pelotonia, Franklin County Animal Shelter, and The Ohio State University Alumni Association.
Abby has lived in Hilliard since 2014. She and her husband, Mitch have two children plus the family dog, Luna. Her son, Aiden, is a second grader, and her daughter, Paige is a kindergartener at the Alton Darby Creek Campus.
In her spare time, she enjoys being active, reading, walking her dog, and chasing her children.