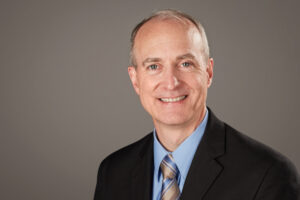 Jeff Schumaker joined the Hilliard Education Foundation, January 2021 and serves on the Grants and Finance committees.  As a compassionate person who is dedicated to his friends and work, he's a person of integrity and principles who speaks from his heart. Jeff joined HEF to help make a difference in our district and give back to the community of educators who have given so much to his children.
Jeff and his wife Stephanie moved to Hilliard in 1999, they have three children at Bradley High School, twin boys, Ian and Caleb, (class of 2026) and a daughter, Kirsten, (class of 2023). Their children are active in football and color guard respectfully. Go JAGS! Jeff met his wife in college, one month before graduating (class of 1994) from The Ohio State University, when purchasing his graduation announcements from her at the OSU bookstore.
Jeff is a registered Architect, Senior Project Manager/Senior Architect with Dynotec Inc. Aside from volunteering his time to HEF, Jeff is an Assistant Scoutmaster with the Hilliard Troop 734. Jeff's hobbies include collecting vintage OHIO license plates, yardwork, hiking and attending Ohio State football games as a season ticket holder.