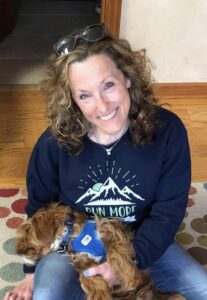 Stasi Trout has been a Trustee since April 2021. She currently is the secretary and the Scholarship Committee Chair.

Stasi and her husband Dr. Wayne Trout have two children. Eric, a 2020 Davidson HS graduate, is now a senior studying Biomedical Engineering at Case Western Reserve University. Emory, a 2022 Davidson HS , is a sophomore also at Case Western Reserve.  She is majoring in Neuroscience on a pre-med track. A former IT consultant, Stasi has turned her passion for wellness and fitness into her current career as owner/operator/lead trainer of Stasi Trout Fitness Training, LLC at the Energy Lab in Hilliard.
A past Norwich and Weaver PTO president and current athletic booster volunteer, Stasi also was a parent chair for the HCSD 2016 Levy Committee.  "I'm passionate about serving for the HCSD because I feel called to give back to our community, especially our educators.  My husband and I chose Hilliard for the schools and have been very grateful for our children's experiences".
Stasi serves on the national Komen Leadership Council, is a principal volunteer for Pelotonia's Riding in Stile with Maria and Kelley, and is a volunteer for Her Song Columbus, a Tim Tebow foundation. In her spare time, Stasi enjoy's family dinners, walking the family puppy, Shiloh, cycling with Wayne, and running.