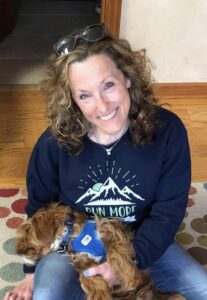 Stasi Trout is new to the Hilliard Education Foundation.  She has been a Trustee since April 2021. She currently is becoming familiar with the foundation and will soon decide which committee to serve on.
Stasi and her husband Dr. Wayne Trout have two children.  Eric is a 2020 Davidson HS graduate, currently studying Biomedical Engineering at Case Western Reserve University and Emory is a senior at Davidson.  A former IT consultant, Stasi has turned her passion for wellness and fitness into her current career as owner/operator/lead trainer of Stasi Trout Fitness Training, LLC at the Energy Lab in Hilliard.
A past Norwich and Weaver PTO president and current athletic booster volunteer, Stasi also was a parent chair for the HCSD 2016 Levy Committee.  "I'm passionate about serving for the HCSD because I feel called to give back to our community, especially our educators.  My husband and I chose Hilliard for the schools and have been very grateful for our children's experiences".
Stasi is also on the national Komen Leadership Council and is a principal volunteer for Pelotonia's Riding in Stile with Maria and Kelley.  In her spare time, Stasi enjoy's family dinners, walking the family puppy, Shiloh, cycling with Wayne, and running.