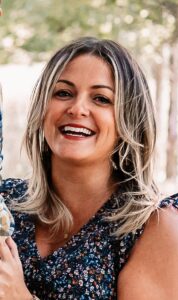 Sara Gandhi has been a member of the HEF board since the fall of 2022. As a new member, she serves on the Grants and Scholarship committees.
To be part of something that creates educational opportunities close to home is one of the main reasons Sara is involved. Being able to meet members of the community, while delivering new ways for our local teachers to initiate creative learning experiences for our students is important to how we can grow.  Sara shared, "I have been fortunate to benefit from these experiences through science, technology and diversity opportunities, and I look forward to being able to provide those for students (and teachers!) in Hilliard."
While originally from the east side of Cleveland (Mentor!), Sara has called Hilliard home for the past 15 years.  She lives with her husband, Mitesh, and their almost five-year-old son, Zayn, as well as our first child, our dog – a toy Alaskan husky named Piper. 

Sara works in Store Operations at Bath & Body Works for the past twelve years, spending time in communications, technology and most recently, omnichannel operations for North America. She is also actively involved in their diversity, equity and inclusion resource groups, co-leading the Education and Development committee for Mosaic, the resource group for Black & African-American associates and their allies.