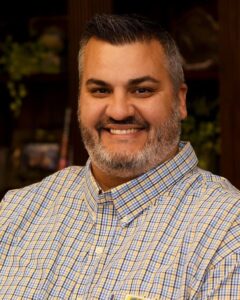 Stuart Osborne has been a Hilliard resident for nearly 20 years. He is married to Kaci, a Speech-Language Pathologist with Hilliard City Schools and active member of the Hilliard Education Association. They have two children: Laney, 17, and Lilly, 11. Laney is a senior at Hilliard Darby High School and Lilly is a 6th grader at Station.
Stuart has worked in media for over 20 years and is currently the Producer of Good Day Marketplace, a lifestyle TV show that airs Monday-Friday at 10:00am on Fox 28. Stuart has previously served as an Assistant News Director (WKEF, Dayton), Executive Producer of Digital & Social Media (WSYX/WTTE), News Producer (WSYX/WTTE), and Producer of The Football Fever (WSYX/WTTE). Prior to his career in television, Stuart was a news anchor at WTVN radio in Columbus and briefly worked in state government.
Stuart and his family are members of Amlin United Methodist Church. He also serves as a Board Member of the Morehead State Alumni Association.